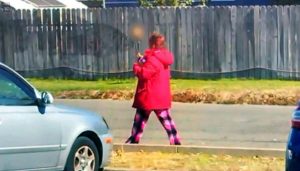 BY KEVIN SAWYER – Police officers in Sacramento followed a homeless woman yesterday who was walking down the street carrying a human head on a stick. Police launched an immediate investigation when they noticed the homeless female carrying the human skull on a stick walking down Connie Drive in Sacramento. She was not far from a local homeless camp.
The unidentified homeless woman wandered in the the nearby homeless camp and were followed by police. An investigation of the place by police turned up a body that was severely decomposed. The camp was only a few blocks away from where police began following the woman. The local medical examiner took possession of the human remains and is expected to issue a report within the next day or two.
Sacramento police Sgt. Bryce Henlein stated that, "A call like this is not something that happens everyday. We hope we can get down to the bottom of what cause this person to become deceased. She brought the officers to the area where she found the skull."
One neighbor of the homeless encampment recognized the homeless woman and told police that she has lived there for some time. The dead body was located only several feet away from where the homeless woman was camped and had her stuff. It was over behind some bushes according to police.
Another neighbor of the homeless encampment, who has only been identified as Warren, told police that he had been smelling something foul coming from the homeless encampment for the past several days. When he went over there to investigate he told police, "I went back there and thought, Damn! What is that smell? It makes me sick to my stomach so I just turned and came back here."
Neighbors stated that there were maybe as many as twenty police cruisers on the scene as well as police forensics teams.
PHOTO CREDIT: San Diego News