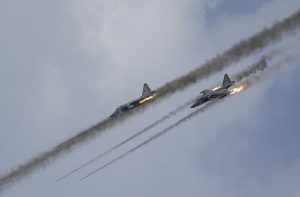 On Wednesday night the strategic Syrian city of Aleppo was once again attacked by Syrian fighter jets. The air attacks have killed 61 so far including doctors, staff and patients at a Doctors Without Borders hospital facility. At least 27 were killed in the hospital air strike including children. In addition, 14 of the 27 dead were patients and doctors.
Early reports have the Russians possibly having participated in the air strikes. Opposition forces to the standing Syrian government has claimed that Russian warplanes did take part in the attacks. It has been a very short cease fire and proposed peace talks in the five year long Syrian civil war.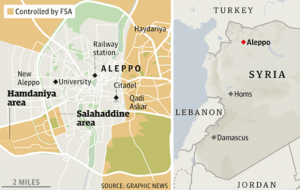 The new fighting has caused the International Red Cross to issue a warning that Syria will soon be a humanitarian disaster. Aleppo is a strategic city that is coveted by both sides especially the Islamic State as it sits in the middle of the territory that they are looking to carve out to establish their independent nation. These attacks have been an extension of the fighting that has been going on in the area or the past week. At least 100 people have been killed in the last week including in last night's air attacks.
The destroyed hospital was one of the few in the area and it was well known that it was staffed mostly by Doctors Without Borders. Hospitals are continually hit and destroyed. Two hospitals in a town just to the east of Aleppo were attacked and destroyed earlier in the year. The current Syrian government, backed by the Russians have been internationally noted for premeditated attacks on hospitals and other health care facilities.
Reports are that the hospital suffered four attacks and that there are still rescue operations going on for there are still many people buried beneath the rubble of the attack.
PHOTO SOURCES: Khaama.com; The Guardian