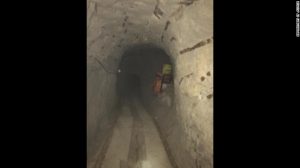 On Wednesday, law enforcement authorities in San Diego discovered a tunnel that was over 800 feet long that was being used to transport marijuana and cocaine from Mexico into the United States. The tunnel began at a house in Tijuana and exited in an empty lot in the Otay Mesa neighborhood in San Diego. The exit hole was about as wide as a manhole and it was covered over and hidden by a dumpster.
Law enforcement and federal authorities ended up seizing seven tons of marijuana and two tons of cocaine out of the tunnel with an estimated street value of over $22 million. The house in Tijuana had a working elevator to more easily load the drugs into the tunnel and the empty lot had a sign out front stating that it was a business selling wooden pallets. The tunnel extends 874 feet and is likely the longest drug tunnel ever discovered by authorities on either side of the border. It was also outfitted with lights and a working ventilation system as well as a small rail system.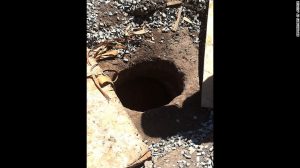 It is the third such tunnel uncovered in this neighborhood which rest quietly along the border fence between the two countries. Federal agents have located 13 of these border tunnels in the last ten years. The elevator in the Tijuana house was actually big enough for ten people and was hidden in a closet within the house.
Neighbors of the pallet company said that the company has only been around for about a year and seemed to be doing a brisk businesses with trucks loaded with pallets would come and go regularly. Last week, San Diego County deputies had been following a truck that had left the pallet business carrying a dumpster and followed it to a parking lot. They continued to keep an eye on the lot and two days later stopped and search a truck coming out of the parking lot. In the truck was 11,030 pounds of pot and 2,240 pounds of cocaine.
Tunnels, it seems will remain popular with the drug smugglers. Both sides of the immediate border has plenty of empty lots and warehouses and, apparently, the dirt and the soil located just on either side of the border makes for easy digging and secure walls and ceilings.
PHOTO SOURCE: CNN