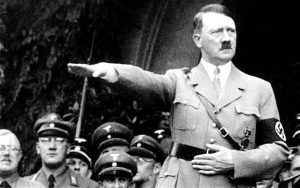 BY KEVIN SAWYER – On Monday, the central government of Austria announced that it would soon be demolishing the home where Adolph Hitler had been born. The house is located in the western part of the country in a town called Braunau and the government officially declared that it would be turned to rubble to discourage people from continuing to visit the place.
Hitler's birthplace has long been a pilgrimage for those who continue to follow Naziism and who consider Hitler to be a hero and a legendary leader and reformer. The proposal still needs the official approval of the Austrian parliament but the legislation is expected to sail through with little or no opposition.
Austria's Minister of the Interior, Wolfgang Sobotka, stated that, "a thorough architectural remodeling is necessary to permanently prevent the recognition and the symbolism of the building."
For the politicians, it will mean leaving the foundation but destroying the house structure so that a replacement building can be built on top of the existing foundation. They want the new building to offer no reminders of the house that had once stood there. Sobotka mentioned that the new structure may contain future government offices so that the association with Hitler will be as far removed as possible.
The owner of the house had refused to sell out to the government so the government, of course, simply stole it from her. The previous owner had wanted to keep the home totally intact so that it would, indeed, lose none of its impact to those who make pilgrimages to see it. The formality of declaring the three story yellow house state property seems only a formality that should take less than a week.
Historians want the house preserved even though the Hitler family didn't live in the house for all that long. Hitler's father was a government employee and they moved from time to time because of his job. In the next town over, Leonding, the home where Hitler spent some of his teenage years still stands. It is now a warehouse of sorts for coffins that are used for the cemetery in town. Hitler's parents are buried in the cemetery but a Hitler descendant had the tombstone and grave markers removed as that, too, had become a pilgrimage site.
PHOTO CREDIT: Reuters / AP