Kevin Bacon just celebrated his 27th anniversary of marriage with his wife Kyra Sedgwick. The pair married in 1988 after starring together in the film "Lemon Sky".
In honor the their wedding anniversary this week, he posted a few throwback photos.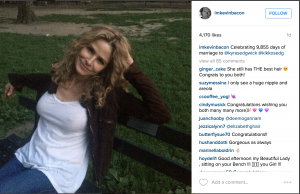 From the Huffington Post:
On April 3, 1988, the couple's wedding announcement appeared in The New York Times, declaring the well-to-do Sedgwick's impending union with some Philly actor:
"Mrs. Ben Heller of New York and East Hampton, L.I., and Henry D. Sedgwick of New York and Stockbridge, Mass., have announced the engagement of their daughter, Kyra Minturn Sedgwick, to Kevin Bacon, a son of Mr. and Mrs. Edmund Bacon of Philadelphia."
Nowadays, with their two children, Travis Bacon and Sosie Bacon both pursuing acting careers, the pair's apparent scheme to conquer Hollywood seems on track.