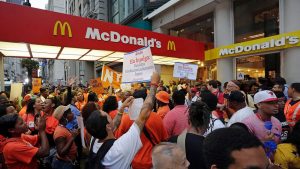 On Thursday, hundreds of McDonald's restaurants across the United States, as well as in many foreign locations, will be the sight of picketers and protesters. Employees at the world's largest fast food chain are demanding a minimum wage of $15 per hour as well as the company recognizing their right to form a union.
The nationwide protests are part of the orchestrated and organized "Fight for $15" campaign that looks to have the national minimum wage raised for all workers especially those in the fast food industry. Workers making on the lower part of the pay scale such as airport and home care workers are expected to show some force in solidarity with the fast food workers at McDonald's and other national chains. The movement was first launched in New York City back in 2012.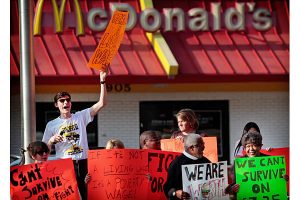 The protests have the political backing of the Service Employees International Union and there is expected to be strong turnouts in such cities as Los Angeles, Boston, New York, Miami, Chicago and even in London and Paris. McDonald's has become a premium target because the union and the protesters believe that McDonald's is such a huge player that what it does can affect an entire industry or even a national economy.
This is not the best possible time for McDonald's as they have been struggling with a decline in sales and traffic and are attempting to do some serious marketing and re-branding. McDonald's had raised pay for corporate owned store employees last year $1 above what the local minimum wages were. This move happened at about ten percent of the 14,000 restaurants worldwide. The company has also mentioned the educational programs it offers to workers that allow them to get their high school diploma or even a college degree. McDonald's workers had no appreciation for that corporate wide move and continue to claim that the corporation doesn't understand the hardships that most of their workers face on a daily basis.
PHOTO SOURCES: ABC News, csmonitor.com