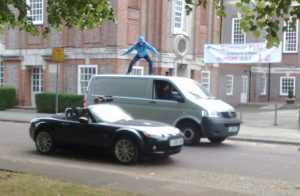 BY KEVIN SAWYER – The fad of car surfing has claimed its seventh victim of the year as a 21 year old woman in New Mexico was thrown from a moving car and was killed in the fall. Wilberta Becenti was, according to police reports, extremely drunk when she decided to climb atop the car she was traveling in just outside of Nageezi, New Mexico.
According to the Centers for Disease Control in Atlanta, the fad of car surfing actually began back in the 1980's. The extreme fad, which requires surfers to ride atop moving vehicles, has averaged around three deaths every year as 58 total deaths were recorded in the decade from 1999-2009. To have as many as seven deaths in a year has been rather unusual.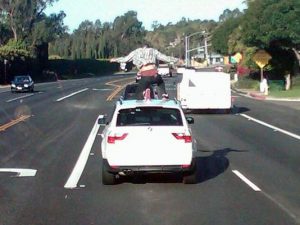 While most of the surfing is being done by males, it seems that there has been a huge jump of late in the number of females who are car surfing. The fad has seen a resurgence of late and it is referred to by players a "ghost riding the whip". The fad has gained in exposure and popularity through a video game called Pimp My Ride in which players can experience car surfing in a controlled, safe and fictional environment.
When two rappers from Oakland glamorized the fad in songs they recorded, participation, as well as deaths, from the craze began to rise. It got to the point that, in 2007, MTV yanked the videos for the songs from its on air playlists. Nearly all of this year's deaths have been young teenagers and once victim was a young as 11 years old.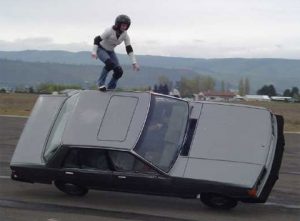 Earlier this year, 17 year old Andrew Green, of Minnesota, was severely injured in a car surfing stunt. He was clinging to the front grille of a friend's car as it raced down the road. He was thrown from the grille and he ended up in a coma for a month with half of his skull having been removed.
When he got out of the hospital, young Green said that. "If I ever have the chance to tell someone, or stop someone, I want to take that chance. I don't want anyone else to end up like this…"
PHOTO CREDIT: Sound Boy Pictures / IGN / USA Today